We are a firm having expertise in Vacuum Dewatered Concrete Flooring [TREMIX]. Mr. V.K.SAH, the key personal, has been in this trade for more than 12 years. One of the pioneers of Vacuum Dewatered Flooring [VDF] Kolkata W.B.Odisha and Jharkhand Bihar.
Unfortunately, today's VDF scene has been hijacked by one-time labour operators, knowing nothing about the actual significance of the process. These fly-by-night operators have access to the equipment but not the technology & perform works at low rates, which are always attractive to clients. Many a times, vacuuming, the very heart of the process is not done.
We in corporates the technical aspects of this fine process & gives you the 'real thing'. Being qualified civil engineers, we understand & know the theory behind the process. Significance of dewatering is clearly understood. The advantages of this process as detailed on the page "Benefits" has been verified with test reports ourselves.
SOME WORKS EXECUTED(lots of ongoing projects not listed)
Sl.No.WorkLocation
1.MATRIX FERTILIZER & CHEMICALS LTD. PANNAGARH
2.prasad seeds pvt.ltd. hydrabad
3.NEEL KAMAL STEEL PVT. LTD. PATNA
4.ALCOVE GLORIA LAKETOWN, KOLKATA
5.INDIAN OIL RIFINERY PARADEEP ODISHA
6.ESSAR STEEL LTD. DHULAGAR,HOWRAH
7.ELECTRO STEEL CASTING LTD. BANSBERIA
8.HINDUSTAN UNILIVER LTD. GARDENREECH KOLKATA
9. SIMPLEX INFRASTRUCTURE LTD .PANNAGARH
10 eaestern coal field ltd.. jhanjhra project
WORK PROCESS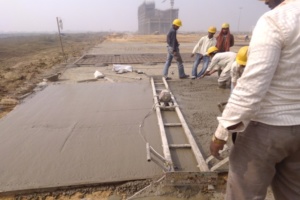 Floors in factories & industry have always been a source of problem in the production areas. Abrasion of floor, breakage due to lower compressive strength etc are some of the prime reasons for failure of concrete floors.
Concrete being the most versatile of flooring material, has been in use for a long time. To overcome the deficiencies of concrete, a system was devised to improve the properties of such concrete floors. This system was "Vacuum Dewatered Floors". This system permits us to add as much water for making concrete workable & easily pourable. Normally addition of water beyond a point reduces the strength of concrete. All the same, to mix the concrete well water used is generally more than the optimum water cement ratio. This system removes the excess water after pouring of the concrete & thus an ideal water cement ration can be achieved.
In this system, concrete is poured in place & vibrated with a poker vibrator. Then a screed vibrator is run over the surface, supported on channel shuttering spaced 4.0 meters apart. The screed vibrator is run twice to achieve optimum compaction & leveling. After this a system of lower mats & top mat is laid on the green concrete & this is attached to a vacuum pump. This draws out excess water. The surface immediately hardens after this process & becomes workable. This is followed by running the mechanical power floater to level off the surface. The last process is working the power trowel to trowel off the final finished surface.
The process is ideal for concrete roads too & is widely in use.
Some Of The Benefits This System Has Over Conventional Floors Are:
Terms and Conditions:
●

We do labour work with our machinery on square meter basis. Our scope of work includes surface vibration & leveling, vacuum dewatering, floating & toweling the surface. Pouring of concrete & poker vibration to be done by main contractor.
●

We also do groove cutting & groove filling as per your requirement.
●

We generally charge an advance with your order. Balance payment to be made weekly for the quantity of work done weekly.
●

Transportation of machinery to your site & back is charged at actual.
●

You are to provide electricity & water required for the work, free of cost, at site.
●

You are to provide stay of 6 workers at site for duration of work.
●

Rates for above works shall be quoted for your specific requirement.